Whether it's Amazon's Prime Day or Everyday Low Prices at Wal-mart, customers still expect the same sorts of treatment from retailers. How customer service actually plays out today is what's changed, though, and technology is the agent driving today's differences.
Consumers are value-driven — no matter what they're shopping for or how cutting edge the technology is.
Below, I outline some of the ways customer expectations have changed, even over just the past few years. What's important to keep in mind: No matter what innovations businesses set in front of consumers, and no matter how they try to serve them, customer expectations will accelerate.
What consumers are asking for right now is simple to explain, but difficult to provide: They want you to provide all the perks, then disappear (until the next time you're needed).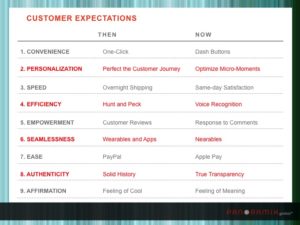 Customers now expect free shipping, no-questions-asked returns, an end to hidden fees, and a money-back guarantee. Oh, and all this should come in any language. Still, some evergreen values that are at the heart of customer expectations remain:
1. Convenience. Amazon got us all hooked on 1-click shopping. No longer did we have to locate and re-enter tedious personal info to buy adult coloring books, a Hot Buns hair styling device, or a 30.0 Cu. Ft. refrigerator. Now, though, in the quest for an easier shopping experience Amazon has released the Dash Button, a small piece of hardware that when paired with your smart phone allows you to reorder commonly used products at the push of a button. Think laundry detergent and diapers and other common needs — all in one click.
2. Personalization
In an effort to reach consumers where it matters, many marketers have made efforts to map the Customer Journey, identifying just the right time to interact with customers and address pain points where they exist. Now, Google's identified the existence of Micro-moments, suggesting that mobile media have "fractured the consumer journey into hundreds of real-time, intent-driven micro–moments. Each one is a critical opportunity for brands to shape our decisions and preferences." Good luck keeping track.
3. Speed
For the past few years, we've been conditioned to expect something overnight if we're willing to pay for it. Now retailers are competing to see who can create a logistically and financially sustainable program to get us what we want on the same day as we order it. Little guys like Gift Squad as well as big players like FedEx and UPS are making deliveries faster — and upping our expectations.
4. Efficiency
Websites and stores have become better and more efficient at helping you find what you want to buy, but the interaction has typically involved a lot of scrolling, filtering and maybe some more scrolling. Even the best shopping has felt transactional. Now that OK Google and Siri have upped their game no one needs to search for anything anymore. Just ask for what you want and up it pops – weather, movie showtimes, flight information and more. No hunting, no pecking.
5. Empowerment
Technology has changed up the power differential in so many ways that marketers now have to be on their service game 24/7/365. Consumers are in control. Consumer-created reviews gave customers their own voice, but social media gave them a megaphone. Marketers now must constantly monitor the data coming back at them, shape the conversation and respond to individuals almost instantly in order to stay in the game.
6. Seamlessness
Apps turned our phones in to pocket computers and wearables gave us the Quantified Self. Now, Nearables are making customer engagement into an even more frictionless experience. Disney's MagicBand is an all-in-one, radio frequency powered wristband that serves as a hotel room key, park entrance pass, or payment device for food and rides. Simple and seamless.
7. Ease
Mobile payment innovations have been slowly making shopping and buying easier and easier. With a few short keystrokes Paypal made it possible to shop on eBay or pay for something in another country — it offered convenience we now take for granted. Now Apple Pay goes another step. No waking your phone, or finding an app, or horrors! — finding a credit card. The NFC technology recognizes the retailer's contact-less reader with your finger on the Touch ID. A little vibration lets you know the transaction went through and you're on your way.
8. Authenticity
There used to be a time when being a time-honored, dependable, practical product and brand was enough. LL Bean has history on its side and products that have barely changed for decades signaling their quality and the consumer desire for them. But now to be authentic means that you have to practice transparency about every aspect of your business–product origin, labor practices, social responsibility, etc.–and if you don't consumers will find it and use their megaphone to broadcast it.
9. Affirmation
Branding strategy includes creating a brand that connects with consumers in ways that matter to them and their needs. But now globalization has raised awareness to the consequences of our lifestyles and consumption choices. People make purchases not just for themselves, but to show others what's important to them. Brands need to acknowledge conscious consumption as a means to affirm and magnify the customer's values.